Bringing the Floor up in the World
Rugs, those beautiful, functional, versatile textiles that we place on the floor can also be used on the sofa, the footstool and that cool vintage chair with the holes in the leather that you found online then stored in your garage for 3 months because you didn't know how to fix it. Well, maybe that is just me, but perhaps after you read on, you might be inspired to move your rug on up.
In the design world, trends change, and sometimes we end up being quite extravagant. It is our duty to ensure that we bring awareness to using our resources with responsibility and creativity. One way to do this is to look at things in a new way. Do you have an old flat-weave rug that has a large stain on one corner of it that might be caused by a spill of sangria at a party by "someone"? With a little creativity, you can save that rug and make a new piece of furniture out of it. You can have an old footstool recovered with the part of the rug that is still good. Or have a couple of large floor cushions made. Nothing is cooler than having a vintage Persian rug made into oversized floor cushions and plopping them down on your brand new cushy high pile rug. Makes your living room look magazine ready. If you have Heywood Wakefield furniture with a perfect frame but destroyed upholstery, reupholster it with a vintage Peruvian rug.
You can even use a flat weave rug to cover a couple of throw pillows to liven up your sofa. Carpet on the floor, carpet on the sofa, it just works.
Carpet on your dining chairs. A durable cotton flat weave that is easy to spot clean is great for this. Reupholster your dining chairs, give them some design superpowers. A striped area rug under the table, floral print rug covering your chairs, boom, magic! Or, if you have a bench style seat, you can simply drape a bright, beautiful Peruvian or flat wool rug over it for a little extra comfort and next level design. And when you are done, just go pop that rug right back in front of your baby's crib, they'll never even know it was gone!
Vintage area rugs also make for great wall hangings. You can have a rod custom made or make one yourself if you are handy. If the rug is destroyed and only a bit is left, cut it and have it matted and framed, a series of 3 or 5 would be great, lining a hallway. This is a key tip, if you travel, you can always find old rugs in markets and they are a great way to preserve your memories from a holiday.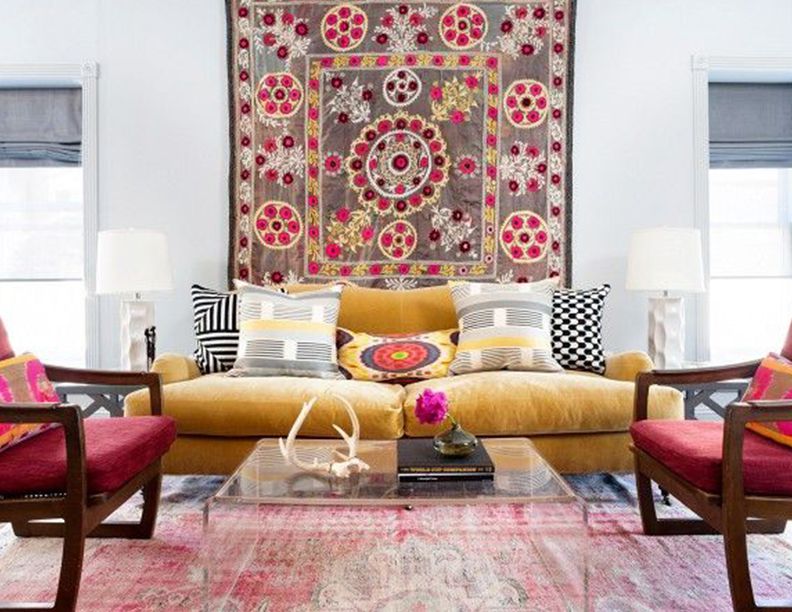 Whether you walk on them, sit on them, or hang them on the wall, rugs are a powerful and versatile design tool. Just because something is old doesn't mean it doesn't still have work to do, look at things in a new way, you'll be surprised at what you can come up with. So move that old area rug on up, elevate it beyond the floor!